I was casually looking at the Google™ satellite map of our neighborhood (actually an aerial photo mosaic, not taken from a satellite) when I noticed a couple of objects on our neighbor's driveway. I zoomed in to have a closer look and the conclusion I came to was that the objects in question are us walking our dogs!
Our morning routine after breakfast: we feed and then walk the dogs. We generally walk them up the road to the west toward our neighbor's house up the hill from us. In the image, the dark colored part of the road running to the left side is where we are. You can see our light colored cowboy hats, our shadows and the dogs and their shadows. Damsel is further up the road than I am by about 30 yards. The image below will clarify where we are in the top image.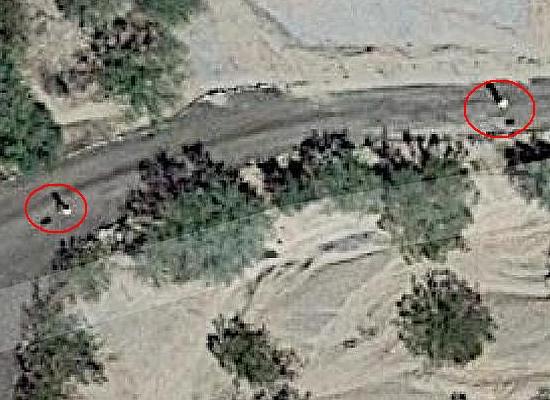 I think it's a funny coincidence that we happened to be out where we were when the aerial photo plane flew over. I estimate the time frame for the image is last summer. My clues are that the RV is not in the usual place as it was being serviced down in Avondale last year and the shadows are shorter on the north side indicating summertime.
Permalink Comments off