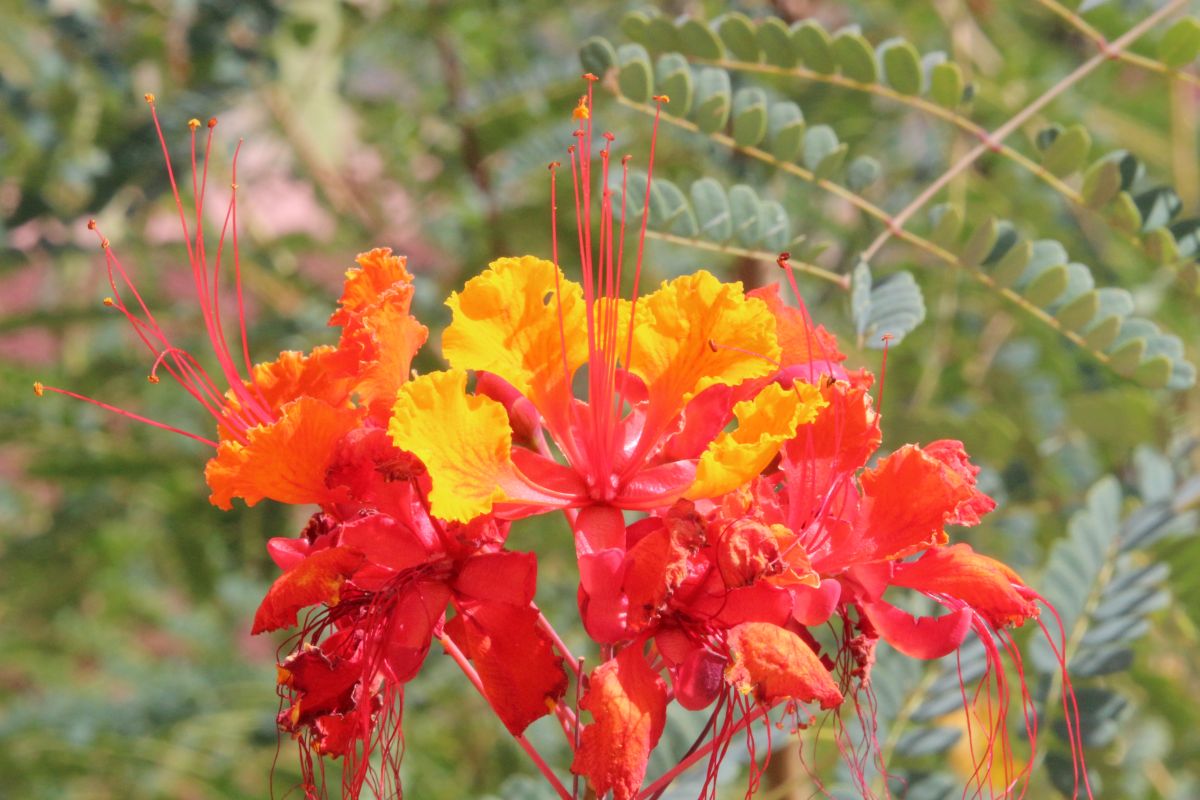 It's that time of the fall when the Red Bird Of Paradise (a.k.a. Pride of Barbados) shrubs in the courtyard are about through with their annual production of gorgeous flowers (and pea pods). Within the next few days, we will be cutting them back to the ground for the winter. However, they will be back by next late May or early June for another colorful season.
This year, we're going to remove the shrubs one per week; trying to cut back all three of them in one day is pretty labor intensive and fills our trash bin to capacity. So we're going to attack the first one this week, perhaps in the morning.
We have an appointment with the hospital lab tomorrow morning for blood work — we visited our primary doctor today who ordered some routine tests for us, so the courtyard work will come after we get home and eat a late breakfast (the tests require that we be fasting).
The image above (click to enlarge) is of some of the last flowers on one of the shrubs. Camera: Canon EOS Rebel SL1, 1/200 sec, F28, ISO 1000, Aperture Priority, Lens EF-S55-250mm @ 135mm.
UPDATE 1 — 10/07/2022: One down, two to go. There are still viable flower pods to open on the remaining shrubs, so they will likely remain there for another week or two, to the delight of hummingbirds, bees, sphinx moths and butterflies – and, of course, the humans watching them.
UPDATE 2 — 10/16/2022: We took advantage of a break in the weather (we've been getting some rain) and removed shrub #2 and part of shrub #3 this morning. We don't usually do chores on the Lord's Day, but the whole operation took less than half an hour, so I guess we're going to be OK with it.
UPDATE 3 — 10/17/2022: Damsel and I finished off the removal of the last Red Bird shrub today. The courtyard now has only the bottlebrush shrubs which are winter hearty in this climate. There was one last cluster of flowers still remaining on the last red bird.
So, with this last (clickable) image, we say good-bye until spring to these beautiful flowers.