About Damsel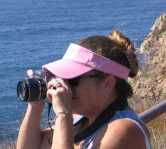 She's the better half, formerly in electrical component sales and currently a homemaker - and a great cook too! She enjoys gardening, reading, photography and caring for our dogs. She also enjoys collecting and watching DVDs; Damsel has collected over 1000 titles - non-keepers go to charity, but there are still many, many in the inventory.
Damsel voraciously watches the news and reads the blogs; she definitely keeps me on my toes. Together we enjoy cooking, taking walks, recreational travel and much more (play the video below).
Damsel provides a lot of the photography here on the website. She uses a Canon Digital Rebel XTi camera, usually with the standard lens, although telephoto and wide-angle lenses are available.
Yes, her hair does come down to well below her waistline. She trims a few inches off to fix the "dead ends" every couple months or so.
And of course, I just LOVE her. Place your cursor over the picture on the right to get a message from Damsel. Play the videos below to see that photos aren't the only thing Damsel likes to shoot.