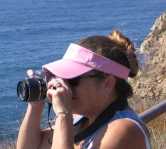 She's the better half, formerly in electrical component sales and currently a homemaker – and a great cook too! She enjoys gardening, reading, photography and caring for our dogs.
Damsel voraciously watches the news and reads the blogs; she definitely keeps me on my toes.
Damsel provides a lot of the photography here on the website. She uses a Canon EOS T6i Digital Rebel camera, usually with the Canon EF-S 18-135mm f/3.5-5.6 IS STM Lens, although telephoto and wide-angle lenses are available.