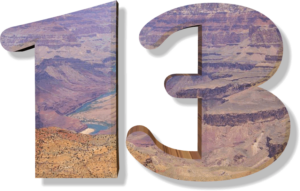 Damn if these years don't just keep speeding by! Thirteen years ago yesterday, I hung up my aerospace hat and jumped into the world of never-ending weekends. Today marks the thirteenth anniversary of my first full day of retirement.
The texture image in the numeral 13 above is from an old photo taken at the Grand Canyon National Park ten years ago.
Last year we posted about our twelfth anniversary and in that post we spoke of our intention to get in the big RV and go somewhere. Well, for various reasons, that trip has not yet happened. It has been over three years since we had the motorhome out and about, so this year we really intend to take a shakedown excursion to see how the RV does and how we do with it.
The most recent long trip was in 2019 when we went through Northern Arizona, Southern Utah, Western Colorado, Southern Wyoming, back into Colorado, down through New Mexico, back into Northern Arizona and then home again.
Our next excursion, as I mentioned, will be a shakedown cruise and as such, will be confined (mostly) to Arizona. We may cross over into Kalifornistan for a few miles, but it will be brief and (hopefully) won't subject us to any of the insanity out there. Our proposed route will take us from home base up through very scenic US 93 to I-40 and east to Seligman, AZ. After that, we're going to travel along Old Route 66 up through Peach Springs, AZ, Kingman, AZ and winding up at Bullhead City, AZ. Then we plan to head back home via Lake Havasu City, AZ, Parker, AZ, Salome, AZ and then on into Wickenburg.