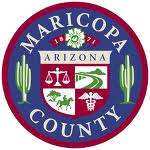 Maricopa County, which includes the Phoenix Metro area, extends far enough North to include Wickenburg which is where our new home will be. The statistics below show a significant shift to the right, probably because of the county's voters collective disgust with The administration and Congress in D.C. and approval of Arizona Governor Jan Brewer's Constitutional gun and immigration enforcement policies.
From the Campaign Spot:
A Sudden Shift in Maricopa County Voter Registration

By Jim Geraghty

This June in Arizona's Maricopa County, 227 voters switched from no affiliation or some other party to the Democratic party. This includes 44 former registered Republicans.

Another 211 voters switched to "independent"; this total included 55 Democrats and 69 Republicans.

Another 217 left the Democratic party to become "Party Not Designated."

And 530 joined the Republican party, including 190 former registered Democrats and 252 who were "Party Not Designated."
Emphasis added.