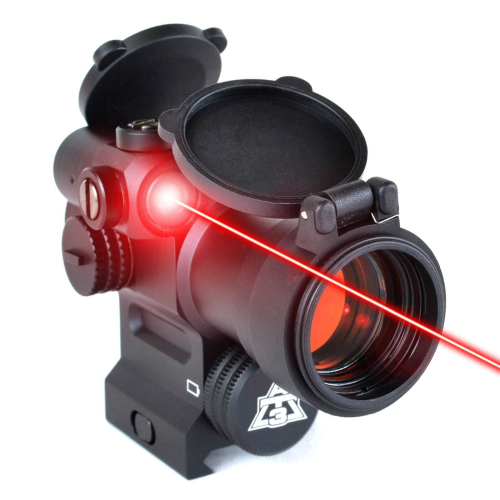 Last week on a whim, I ordered a couple of AT3™ LEOS® Red Dot Sights with Integrated Lasers for both of our rifles. Yesterday, I mounted them on the upper receiver rails of the rifles and tested them out - both units seem to work just fine.
I have to mention that I am a little disappointed that these were manufactured in China. We generally avoid buying products from communist countries if we can help it, but the items are here and we'll try to make the best of it, I guess.
The next step is to take them to the range and boresight them to the rifles. AT3 Tactical supplied a procedure for this, but we are going to consult some videos on YouTube™ and other sources to get a feel for how we're going to go about it.
The image below is of my rifle with the new optic mounted with both dust covers flipped up. The laser on/off button is on the little control panel (forward) and the three red dot controls are brightness up, brightness down and on/off. Click on the image to enlarge.
Permalink Comments off