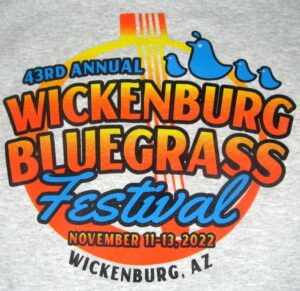 Yesterday, 11/11/2022, Damsel and I attended the first part of the opening session of the 43rd Annual Wickenburg Bluegrass Festival Weekend Classic. The Everett Bowman Rodeo Grounds are hosting the Festival as usual this year. The Rodeo Grounds are also hosting food vendors and various other vendors like jewelry, folk art, crafts and some other merchandise. The T-shirt vendor sold us a hooded sweatshirt with this year's festival logo freshly silkscreened on it (pictured above – clickable). We try and buy a T-shirt or a sweatshirt each year we attend the festival.
A group called The Arizona Wildflowers came on stage first to perform a set of tunes. These three sisters and (recently added) 8 year old brother performed some great tunes including some gospel and other favorite tunes. We thought they were great! In the (clickable) image above, you can see little brother almost dwarfed by the bass fiddle he was playing. Everyone in attendance seemed to enjoy their performance as much as we did.
We made the tour of the vendors to see what was available; as I mentioned before, we bought a Sweatshirt for me. We also bought a beautiful pair of Moonstone Earrings for Damsel. At this point, we were ready to head back home. We can't leave the dogs alone for very long, so we said adios to the Bluegrass Festival until next year.