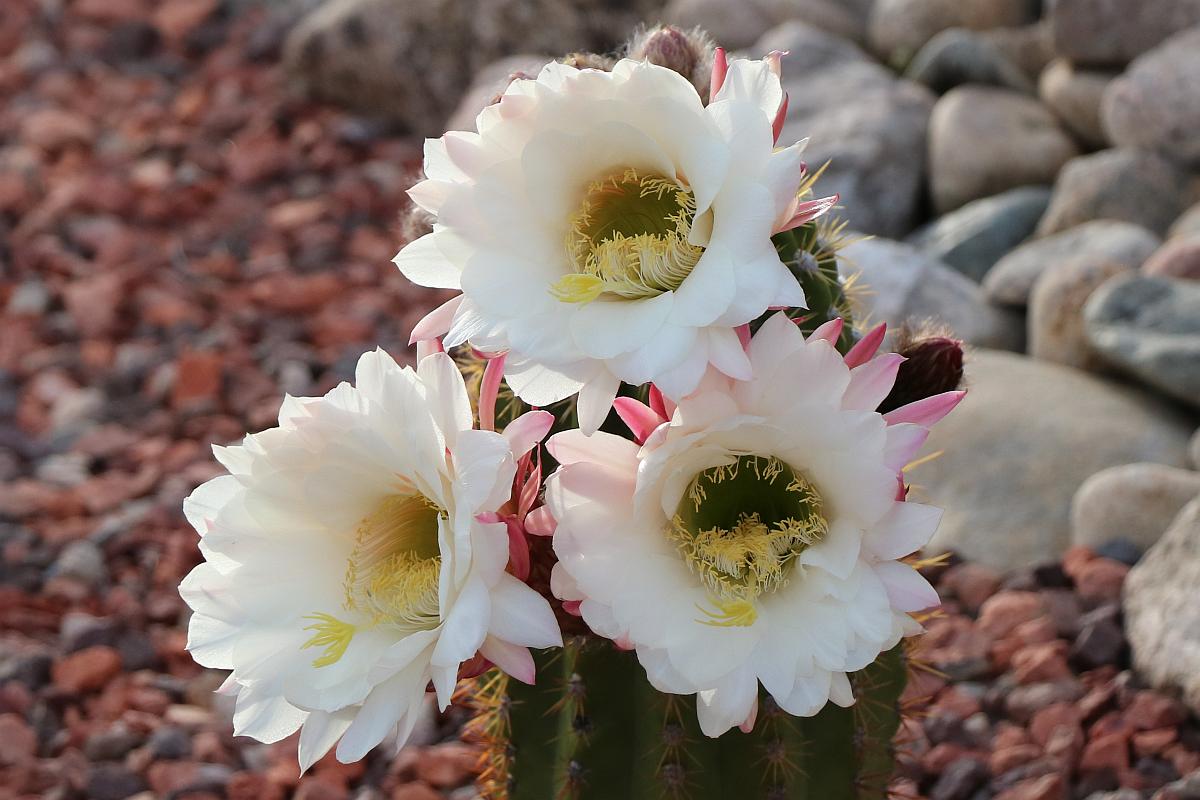 After being in the ground out front for over seven years, this cactus is finally showing signs of being as prolific as some of the other Argentine Giants in town. These three flowers opened late this afternoon. There are numerous more flower buds on the cactus that should also be opening soon.
There are also buds near the bottom of the cactus that will be new cactus limbs, not flowers. There is plenty of room for the cactus to expand where it sits, so we're glad to see it starting to take off. This cactus, native to Argentina, has an unusual growth habit for a cactus. It does not get any taller than about two to three feet at maturity and has sprawling limbs that grow just as wide as the main plant.
More about Echinopsis Candicans:
Echinopsis candicans is a species of cactus from northern and western Argentina (Monte Desert). It has large fragrant white flowers that open at night.

The cactus has a shrubby growth habit, with individual stems up to 60 cm (24 in) tall. The plant as a whole can be as much as 3 m (10 ft) across. The stems are light green, with a diameter of up to 14 cm (5.5 in) and have 9–11 low ribs. The large white areoles are spaced at 2–3 cm (0.8–1.2 in) and produce brownish yellow spines, the central spines being up to 10 cm (3.9 in) long, the radial spines only up to 4 cm (1.6 in).
Click on the image to enlarge.
UPDATE April 17, 2019: As mentioned in the post above, the cactus is showing a great amount of activity and growth. There are over a dozen new flower buds that look as if they will be coming out soon and all at once.
UPDATE April 23, 2019: Almost all of the rest of the flower buds on the cactus opened this afternoon. It's like a bridal bouquet with a dozen open flowers.