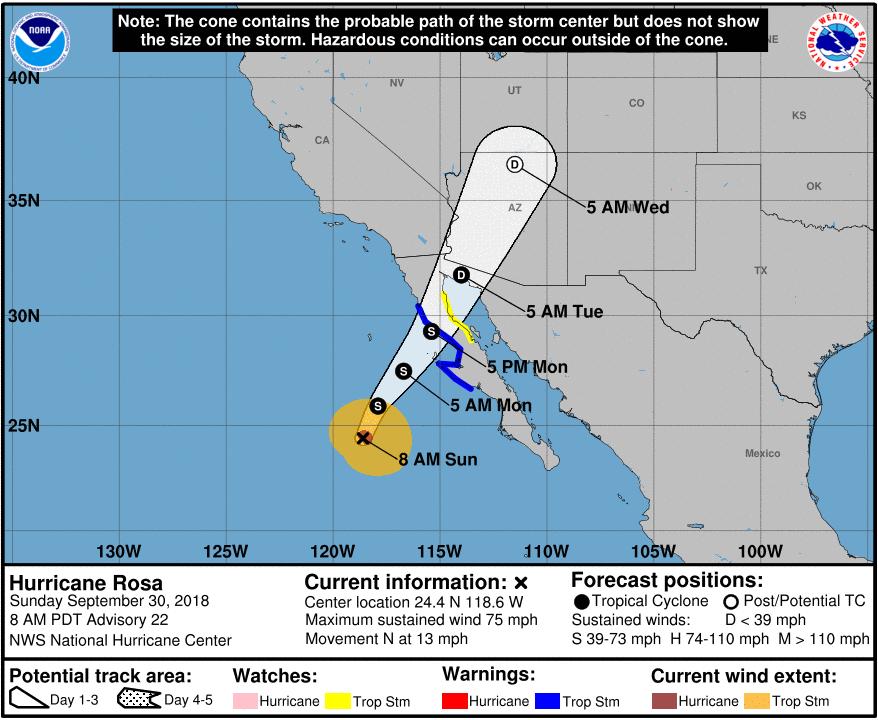 It looks like we Arizonans may be in for a taste of the remnants of Hurricane Rosa, currently situated in the eastern Pacific Ocean off the coast of Baja California Sur. The storm is expected to head northward and bring rain and flooding to northwestern Mexico and the Southwestern United States. The current forecast track of the storm will bring the center of it directly over us during the next few days.
We can already see signs of the weather that Rosa is going to bring. There are cumulus clouds beginning to form in all directions from here in Wickenburg. There is a layer of thin cirrus covering the southern sky.
The warnings include heavy rainfall and possible flash flooding, which is something we're used to getting during monsoon season. Damsel and I did our usual thing to go around the property and secure loose objects that the expected winds might blow around. We took down the flags and stored them away until after things calm down.
Rain and embedded thunderstorms are forecast starting tonight and lasting through Thursday. The image above is from the National Weather Service. Click to enlarge.