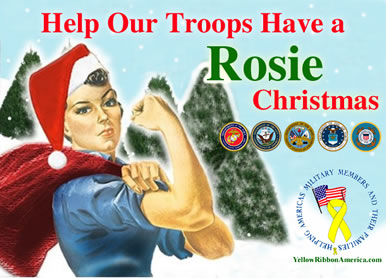 This year we selected Yellow Ribbon America's Rosie Christmas campaign for our annual toys donation. We're donating some new toys that we bought at our local merchandise liquidation discount store. The destination for these toys is to the children of our deployed California National Guard service men and women. There is also the opportunity to gather up your already-watched DVDs and donate them to the deployed troops. You may also donate gift cards to the cause.
This is a great way to get your Christmas giving endorphins! If you live in California, or are going to be here in December, click on Rosie's picture to find your nearest drop-off location.
Yellow Ribbon America and the America's Heroes Foundation are again sponsoring "Operation Christmas for Our Troops" our statewide Holiday effort for California's deployed military and their families. Operation Christmas for our Troops is a bi-partisan, statewide effort with the California State Capitol for our deployed National Guard and Reserve military members. Last year we collected over 47,000 toys and DVDs as well as gift cards for California military families.

This year we will kick off the Drive again at the California State Capitol and here in Southern California the first week of December. This bipartisan effort is quite unique because Representatives from both the State Assembly and the State Senate will gather at the Governors Press Conference room to announce their unified support of California's military and their families during this crucial time in American History.

We are excited to again have the California Legislature as Sponsors and several members of the California Congressional delegation also. This year we have for Toy drop off locations all 120 State Legislative Offices located at the Capitol and their DO's, Ralphs Markets (Southern California), select Wal-Marts and Sam's Club locations.

California's National Guard alone has thousands of soldiers and airmen on active duty and deployed. This year we will be assisting all military in California, our National Guard, Reserves and Active Duty. Which will help bring a Merry Christmas to all of our military and their families and show how much their State and its Capitol cares.