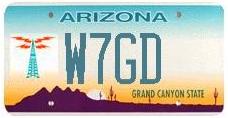 I went to the local AZDOT MVD office and ordered Ham Radio license plates for the RV, which was up for renewal in a few weeks. I killed two birds by ordering the plates and renewing the registration at the same time.
The image at the right is a mock-up of what the new plates might look like. I took a screenshot of the image on the DOT website and cobbled in the radio tower from another image. You can see what I did if you look closely.
Besides the call sign, there is a radio tower with lightning bolts coming out of it and the words "Amateur Radio Operator" instead of "Grand Canyon State" seen in my mock-up. In addition, there is a mountainscape and several saguaro cacti in silhouette along the bottom. The plates are colored in gradient from turquoise at the top, through white in the center and to gold on the bottom. I think they're quite nice looking. An actual completed ham radio license plate can be seen here.
The agent who took my order said that the plates take four to six weeks to arrive. In the meantime, I'll be impatiently waiting!