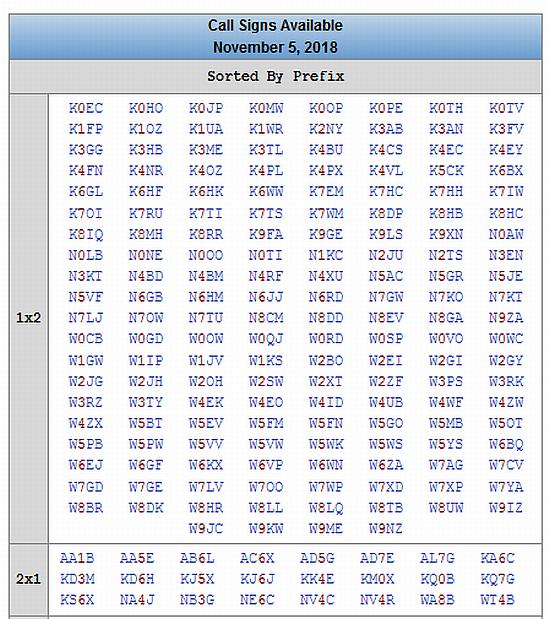 For whatever reason, a large number of desirable amateur radio callsigns will become available tomorrow, November 5, 2018. The callsigns available are shown in the screenshot from the RadioQTH website. I have only shown the 1×2 and 2×1 calls designated for the amateur extra class licensees. There are 164 1×2 and 24 2×1 calls becoming available.
Since I am only interested in 1×2 calls with the numeral 7 in them, I will only apply for those tomorrow. The FCC vanity application allows for a list of up to 25 callsigns in order of preference. I have already made up a spreadsheet for the calls I intend to select. The order I chose was based on three criteria: 1) CW weight, or the length of time it takes to send the call using Morse code, 2) Phonetic weight, or the number of syllables to articulate the callsign in voice modes using the international phonetic alphabet and 3) my own parochially assigned likeability for a callsign.
Fortunately, there are enough 1×2 calls in the seventh callsign area to allow me to completely fill in the 25 available slots in the FCC application. For most of the calls available, there will be a tremendous amount of competition. Wish me luck.
11/05/2018 UPDATE: Here's my list. Click on the image to enlarge.