Well, the first day of winter officially began at 0928 Arizona time this morning. The image snippet I captured from Archaeoastronomy.com shows the time of the solstice in UTC. Arizona time is seven hours earlier.
I know that those in chronically colder places will regard this as whining, but it's very cold here in the desert today. When I was out with the dogs this morning, it was 43° and wind gusts to 25 knots. I was wearing sweats and, believe me, the wind went right through the thin flannel. Neither I, nor the dogs, could wait to get back into the nice warm 68° inside temperature.
Although the temperature never exceeded 52° here today, the forecast for Christmas weekend is for less wind and warmer with highs back up in the 70s. Today, we're looking ahead to that.
On a different winter topic, The Patriot Post featured this Rick McKee cartoon with reference to the recently passed GOP Tax Reform: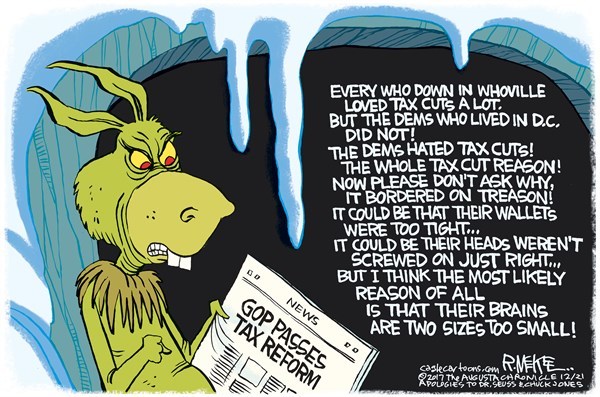 The fine print disclaimer includes apologies to Dr. Seuss.