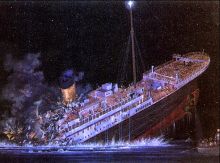 California residents are abandoning the state in favor of other nearby states according to the Department of Finance. Associated Press and other media outlets will be quick to blame the trend on the cost of housing here, but there are other reasons as well.
California is a state where:
income taxes are extremely high
sales taxes are extremely high
property taxes are extremely high
gasoline taxes are extremely high
courts are generally soft on criminals
immigration laws are not enforced
a half-million illegals and supporters clogged the streets of Los Angeles
vehicle emissions controls are unreasonably severe
congressional districts are gerrymandered to assure Democrats stay in power
judges make rulings for political reasons rather than upholding laws
unreasonable environmental laws cripple business and industry
a jury acquitted OJ Simpson of murder despite compelling evidence he was guilty
extreme firearms laws exist that violate citizens' second amendment rights
cities like San Francisco attract and cater to degenerates
Of course these are just a sample of things wrong with California.

From the left-biased news service, AP:
More California residents left in 2005 than arrived

For the first time in a decade, state sees a negative flow of people.

For the first time in a decade, the number of residents who left California for another state in 2005 exceeded newcomers who moved here, according to the newest figures from the state Department of Finance.

California recorded a domestic net loss of about 29,000 people last year — the first negative flow of residents since the mid-1990s. The biggest recent loss was in 1994, when the sputtering state economy helped California lose about 350,000 residents to the other 49 states. [Ed. – They forgot to mention that a large earthquake occurred in Northridge in January that year, which I personally know drove many people out of the Los Angeles area.]

The most common destinations for the newest crop of departing Californians were Arizona, Nevada, Texas, Washington and Oregon.

Anecdotal evidence suggests the high housing cost was the reason people fled the nation's most populous state, which has more than 37 million residents.

The number of Californians who could comfortably pay the mortgage on an entry-level home fell to 24 percent in the third quarter.