I got a dispatch from the Arizona Citizens Defense League (AzCDL) announcing the third annual Tombstone Freedom Days. I am posting some of it here: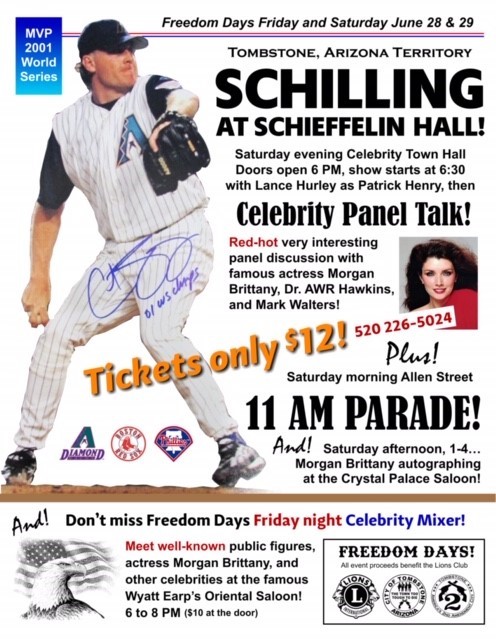 The Third Annual Freedom Days celebration in Tombstone will be held on Friday and Saturday, June 28 & 29. A schedule of events for this two day celebration can be found at https://www.tombstonefreedomdays.com/.

This year's events include a Celebrity Town Hall panel discussion at 7 PM, on Saturday, June 29 featuring:

Mark Walters of Armed American Radio
Baseball Legend Curt Schilling
Actress Morgan Brittany
Second Amendment journalist Dr. AWR Hawkins
Also on the agenda is Patrick Henry, co-author of the Bill of Rights, as portrayed by Lance Hurely.

Panel discussion tickets are now available for only $12 and can be purchased in advanced by calling (520) 226-5024. Seating is limited. Doors open at 6 PM. All proceeds benefit the Tombstone Lions Club.

Don't delay, get your tickets today!

While at the celebration, stop by the AzCDL booth and visit with our volunteers.
Unfortunately, we're tied up with a medical procedure that Friday and won't be available to travel to Tombstone for the event.