Sadly, we didn't get to attend the Second Amendment Blog Bash activities at all this trip. We brought our eleven year old dog with us because a) she likes to travel, and b) she is a large breed and may not be with us that much longer. We missed meeting our blogging comrades, but being convention 'virgins' this is a learning experience for us. We plan to tune it up next time.
First, we took the dog to 'day care' recommended by our RV park director. Then we headed into town. Traffic, traffic, traffic, then finally got into a parking spot. Gracious thanks to Bitter and the organizers of the Blog Bash, the rest was all downhill. We checked into the media room and picked up our passes and kits and headed into the exhibits.
Toys, as far as the eye could see! So many guns, so little time!
One stop we had to make was at the Para booth. We wanted to personally meet Todd Jarett and Kerby Smith, both of whom helped get Damsel on the right track shooting her Warthog. It was Michael Bane who introduced us to the Para team in the first place and they took it from there. Damsel spoke briefly to Todd, who virtually gave her instruction on short barrel large caliber firearms training for women via a video that Kerby sent her. We wanted to thank them both for the training and for the extraordinary Para customer service.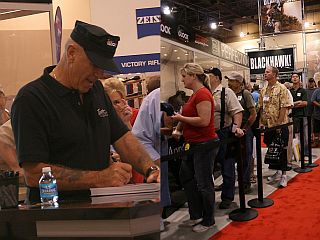 When we walked through the Glock exhibit, none other than R. Lee Ermey - the Gunny from Full Metal Jacket - was signing autographs for Team Glock. We didn't get in line to get his autograph and would have liked to have done so, a lot, but it was starting to get late - we needed to get back to pick up our dog. Besides, look at the lineup this guy gets for autographs! Must have been thirty minutes wait or more. The Gunny was posing for pictures, giving hearty handshakes and personally talking to the folks at length. This guy is the real article - a person who, despite some celebrity status, is a down-to-Earth guy with conservative and second amendment values. Click on the image to enlarge.
It was a lot of fun to see this today. I guarantee the next time we attend one of these, we will be able to show up at all the events and meet our comrades in arms. We're already looking forward to our next NRA Convention. We can hardly wait.