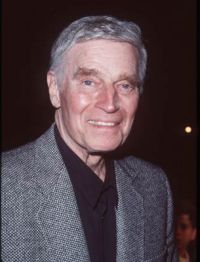 "I have five words for you. From my cold, dead hands." Those were the words of Charlton Heston as he addressed the National Rifle Association while referring to presidential candidate Al Gore's gun ban policies.
Damsel and I are saddened by the passing of legendary actor and gun rights advocate, Charlton Heston. Known to his friends as "Chuck," Heston was a warm, personable man, unpretentious and a firm believer in the family unit. I know this because I met and spoke with him - twice actually.
If you've read my profile, you will know that the reason I claim the title "Cap'n" is that I am a pilot and Flight Instructor. My student pilots started calling me that when I earned my Airline Transport Pilot certificate. It was my privilege to have had the opportunity to instruct Fraser Heston, Chuck's son, up through his solo flight in a Piper Super Cub belonging to a friend, Ralph, who was also one of my students.
On the day of his solo flight, Chuck and the family showed up at Santa Monica Airport to witness Fraser's first flight as pilot in command. We did a couple of full stop landings together to warm up. I jumped out of the plane and walked over to where the family stood. At the gas pit. Chuck introduced himself just as though he was only the Dad of my student. He introduced the family and then lapsed into small talk about his flying experience as a crew member in Alaska during the second world war. After the solo flight - three takeoffs and three full-stop landings - we proceeded to the tie-down area where Chuck opened a bottle of champagne and poured it into several plastic champagne glasses sitting on the horizontal stabilizer of a nearby Cessna. We toasted Fraser's first solo and wished him blue skies and safe passage.
It was easy to think about Chuck as though I had known him most of my life - which was essentially true if you consider having seen most of his movies - the man was the same on and off screen.
Damsel and I were invited to a screening of "Mother Lode," a film produced by Fraser and starring Chuck. We both got to meet and speak with Chuck at the event.
As the years passed since that time, we became more avid in our guns and shooting activities. As NRA members, we were proud to say that we knew this legendary man.
The world will miss Charlton Heston. Our deepest sympathy goes to Fraser and the family in this time of their loss. God bless Charlton Heston.