It's always exciting when the shuttle departs the pad and heads out to space. I snapped this from the TV coverage as she heads up on a plume of fire.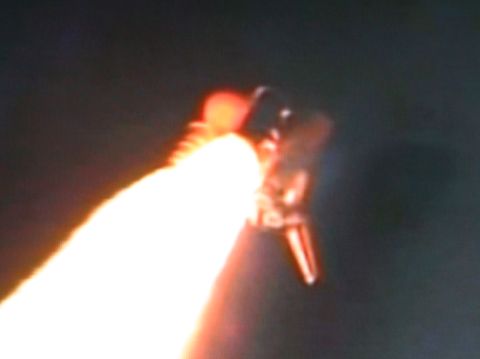 Read NASA' s coverage of STS-116 mission launch and details below the fold.
Space Shuttle Discovery and a crew of seven astronauts lifted off from Kennedy Space Center's Launch Pad 39B at 8:47 p.m. EST, kicking off the most complicated and challenging mission to the International Space Station to date.

The warm glow of Discovery's solid rocket boosters and trio of main engines lit the night sky for miles throughout the Kennedy area, marking the first night launch of a space shuttle in four years.

The launch culminated a countdown challenged only by a cold front dominating weather across the spaceport. Packing cloud cover and gusty winds, the front caused the scrub of Thursday's launch and posed an early threat to this evening's attempt before weakening in time for liftoff.

With a successful climb to orbit now behind them, Commander Mark Polansky and his crew can get down to the business of rewiring the station and installing a new segment of the outpost's integrated truss system. During the mission, ISS Flight Engineer Sunita Williams will take her place on the station, relieving Thomas Reiter, who will return to Earth with shuttle Discovery.

The STS-116 mission is the 33rd for Discovery and the 117th space shuttle flight. During the 12-day mission, the crew will continue construction on the International Space Station, rewiring the orbiting laboratory and adding a segment to its integrated truss structure.